FIFA/Coca-Cola Men's and Women's World Top Ranking Team and Their Upcoming Matches-
FIFA/Coca-Cola men's World Ranking:
Ranking
Team
Pts
+/- Pos Dec 2010
1
Spain
1887
0
2
Netherlands
1723
0
3
Germany
1485
1
4
Brazil
1446
-1
5
Argentina
1338
0
6
England
1195
0
7
Uruguay
1152
0
8
Portugal
1090
0
9
Egypt
1078
1
10
Croatia
1075
-1
11
Greece
1016
0
12
Norway
995
0
13
Russia
982
0
14
Italy
965
0
15
Chile
950
1
The new year is here, and it's tempting to think of 2011 as a bit of a let-down in terms of international football. After all, 2010 was the big one, the World Cup year, and now we enter the long three year hiatus of World Cup football before Brazil 2014. But there is, of course, far more to the international game than just the World Cup.
Many of these tournaments involve youth sides, but there's also plenty of senior action and we do have World Cups for the women's sides plus for two youth cohorts. Here are some of the major tournaments going on in 2011, in chronological order:
2011 CONCACAF Gold Cup
When: 5-25 June, 2011
Where: USA (13 venues around the country)
What: The Gold Cup is the continental cup for North and Central America. The USA, Mexico and Canada will be joined by four Caribbean nations and five countries from Central America, with the winner qualifying for the 2013 Confederations Cup in Brazil, an important warmup for the next World Cup.

The 2011 Gold Cup is the continental championship for North and Central America. The regional powerhouses of the United States and Mexico will be joined by 10 other nations, including five to be determined from the Copa Centroamericana in January. Once that last qualifying tournament is out of the way, the group stage draw will be made.
The United States is hosting the Gold Cup, and the hosts will be anxious for revenge. In the last Cup, Mexico beat the US by a staggering 5-0 score in the final, the largest margin in the current format. With both sides having reached the Round of 16 in the 2010 World Cup, it should be a tough contest as always if they meet. Assuming they make it through the Centroamericana qualification (which is expected), Honduras will make it three World Cup sides in the tournament.
Qualified teams:
USA, Mexico, Canada, Jamaica, Guadeloupe, Cuba, Grenada (5 more teams left to qualify)
The schedule is as follows:
June 5-14: Group stage
June 18-19: Quarterfinals
June 22: Semifinals
June 25: Final match at the Rose Bowl in Pasadena
FIFA/Coca-Cola Women's World Ranking:
Ranking
Team
Pts
Nov 10
+/- Ranking
Aug 10
+/- Pts
Aug 10
1
USA
2185
0
-42
2
Germany
2153
0
2
3
Brazil
2116
0
-8
4
Sweden
2063
0
11
5
Japan
2036
0
2
6
Korea DPR
2005
0
0
7
Norway
2002
0
12
8
France
1998
0
24
9
Canada
1974
4
28
10
England
1973
-1
6
11
Italy
1952
0
3
12
Australia
1945
-1
-4
13
China PR
1916
1
5
14
Denmark
1895
-4
-58
15

Netherlands

1871
0
11


source-world cup blog
2011 FIFA Women's World Cup
When: 26 June-17 July, 2011
Where: Germany
What: The sixth Women's World Cup, this event will bring together the top 16 women's football teams in the world. The hosts Germany will be heavily favored, but the English, Swedish, Brazilians and Americans will be among the challengers looking for an upset.
2011 Copa America
When: 1-24 July, 2011
Where: Argentina
What: The 43rd edition of the South American continental cup will be the most important tournament of the season for Argentina, who have won 14 Copa America titles, but haven't won since 1993 and have watched Brazil take four of the last five titles. Especially as hosts, the pressure on them to take back the Copa will be massive.
2011 All-Africa Games
When: 3-18 September, 2011
Where: Mozambique
What: The 10th edition of the All-Africa Games include 23 sports. The football tournament will face the hosts Mozambique against seven other sides that will qualify during the year.
Euro 2012 Qualifying
When: March, June, September and October 2011
Where: All over Europe
What: Eight of the twelve qualifying matchdays for Euro 2012 occur this year, stretched all over the calendar. Several of the nine groups are still quite open, and there are sure to be more surprises on the road to Polkraine.
Such is the world of modern football, that as soon as the World Cup ends, and teams go back to their clubs, they have to immediately think about the first round of qualifying for Euro 2012. Here is the schedule for European Championship Qualifying, with links to more on each qualifying group.
Fixture Dates:
3/4 and 7 September 2010
8/9 and 12 October 2010
25/26 and 29 March 2011
3/4 and 7 June 2011
2/3 and 6 September 2011
7/8 and 11 October 2011
51 teams entered qualification, divided into 9 groups (6 of six teams each and 3 of five teams each). Group winners qualify automatically, as does the top-ranked second-placed team. The remaining eight second-place teams will enter a playoff round.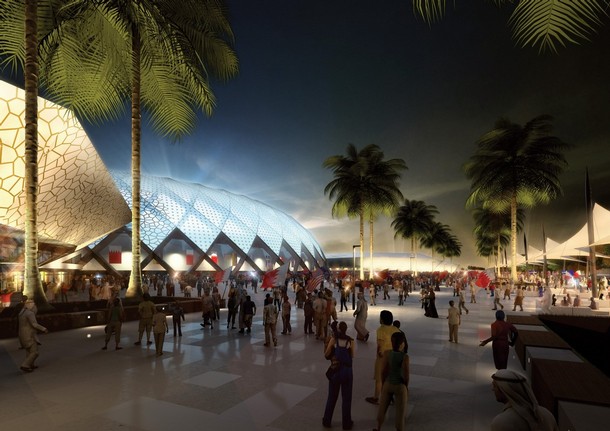 Africa Cup of Nations 2012 Qualifying
When: March, June, September and October 2011
Where: All over Africa
What: The beginning of the qualifying process has been a mixed bag for the established stars of African football, with Egypt and Nigeria stumbling out of the blocks and Ivory Coast sailing smoothly so far. But there's a long way to go still, and these remaining matches will be the ones determining who will be headed to Gabon and Equatorial Guinea early next year.
More information: Africa Cup of Nations 2012
The 2012 Africa Cup of Nations is the 28th edition of Africa's international football championship. The tournament itself will be held in January 2012 in Gabon and Equatorial Guinea.
Qualifying
Currently, the only nations that are guaranteed qualification are the hosts, Gabon and Equatorial Guinea. Gabon has appeared in four previous AFCON tournaments, but this will be the first appearance for EG.
The 2022 World Cup bid process is turning into an arms race between two parties with deep pockets and deeper ambitions, so clearly the winner of that World Cup will be anyone who attends. Anything done on the pitch is just a bonus.
Japan wants holograms, Qatar has now countered with the rather stunning Lusail Iconic Stadium complex. One which can't really be fully appreciated without the help of a helicopter. Or 3D modeling and the slight detail that it's not real yet.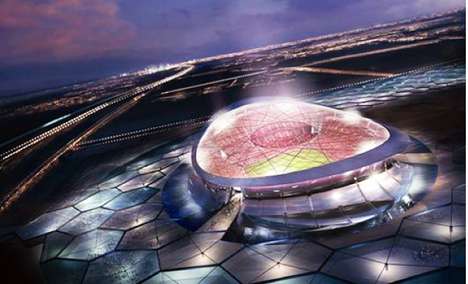 Just adding to Qatar's astonishing array of proposed stadiums which will look fantabulous in a museum when the World Cup is awarded elsewhere.
It's off to see the future, and then the wizard.
Qatar has no time for World Cup 2010 – they're looking to the future and beyond with their futuristic World Cup 2022 bid. It's an awfully tantalizing bid for a number of reasons – billions of them, in fact; reasons which make it seem an awfully likely candidate, particularly if FIFA conduct business as usual.
With the bids in full swing, the campaign committee released the first five stadium designs. Jaws at the ready.
Before getting too far, there is, of course, a slight problem: climate. And if the maths of global warming proponents mean anything, Qatar during the summer months of 2022 will make the earth's mantle seem a shady elm. No matter: air conditioned stadiums. Or stadia. However you prefer.
Each of the five stadiums will harness the power of the suns rays to provide a cool environment for players and fans by converting solar energy into electricity that will then be used to cool both fans and players at the stadiums.
Brazil President Luiz Inacio Lula da Silva said that his country will need to build 12 new stadiums if it plans on hosting the 2014 World Cup. "We don't have any stadium which is in a condition to host World Cup games," Lula said during a speech. "We're going to have to build at least 12 new stadiums in this country."
Far be it from us to question a president, but surely a couple of Brazil's existing stadiums could be renovated sometime during the next eight years. We also wonder how he came up with the number 12. While Germany had 12 stadiums in 2006, South Africa will have 10 venues in 2010.
In any case, we're on record as saying we want Brazil to host the tournament, although the possibility of Colombia is very intriguing if only for the thought that we could see another pregame performance by Shakira.
The bidding war to host the 2018 and 2022 World Cups is almost underway, with the official procedure beginning in January 2009.
Big news is that FIFA will be announcing the hosts for both World Cups in December 2010, so we'll know the 2022 World Cup hosts a full 12 years in advance. It's a little bit complicated, but basically if a country's (or countries') bid for 2018 fails, then they can still also bid for 2022. Provided they're on a different continent to the 2018 winners. That clear?

The serious interest so far has come from:
Australia
Benelux (Belgium & Netherlands & Luxembourg)
China
England
Mexico
Sportugal (Spain & Portugal)
Qatar
Russia
USA
Without getting too political, I'm not sure China has much chance when you add together their really not very good football team and some questionable activities surrounding the 2008 Olympics. Mexico has already hosted two World Cups and three would be just getting greedy, while Belgium and Netherlands had the Euros as recently as 2000, Portugal as recently as 2004.
USA hosted in '94, which is still relatively recent. Also, would that mean all the 15,000 to 20,000 soccer specific stadiums getting overlook in favour of NFL stadiums to host games?
Russia's interesting given the amount of money in the Russian Premier League, and Qatar would be an experience.
My guess would be England in 2018 and Australia in 2022. Mostly because England will just keep asking until they finally get it and Australia is then the most likely of the non-Euro bidders because of its solid sports infrastructure.