Top Ten ICE Hockey Player and Their Glorious Achievement-Career Status-Playing Style
The Capitals bounced back from their tough loss to Pittsburgh before the holidays with a 3-2 win over division rival Carolina. And more importantly, Alexander Ovechkin put an end to his goal-scoring drought after Mike Green corralled a wildly bouncing puck and sent it through the crowd. The puck deflected off a Carolina player to Ovechkin, who snapped it in behind Cam Ward. The goal, which proved to be the game winner, was his 13th of the season.
Mathieu Perreault continued to impress last night, wristing in a great Alexander Semin no-look pass that slide in front of the net, giving the Caps a 1-0 lead in the first period. David Steckel broke the 1-1 tie in the second after a great pick by Ovechkin as the Hurricanes were bringing the puck into center ice. Despite Tuomo Ruutu's quick tip-in to start the third period, the Caps held on to grab their third win in four games.
"Our division's pretty tough, so any game within the division, coming out with two points is huge for us," Steckel said. "Especially a game after two days off. We wanted to come out and make sure we're doing the right things and keep kind of the ball we've got rolling. I know we lost last game, but it's indicative of the way we're playing. If we keep playing like this, good things are going to happen."
The Caps face the Montreal Canadiens in DC on Tuesday before packing up for the Winter Classic.
NHL plays Classic safe with Alex-Sidney star power-
source-By Daren Smith
Special to CBSSports.com
Already a spectacle in three short years, did the 2011 edition of the Winter Classic really need the star power of Alexander Ovechkin and Sidney Crosby?
Tapping Ovechkin, the immensely talented yet somewhat mercurial Capitals captain, was pretty much a no-brainer. He's flashy, brash and outgoing. But more than a few fans rolled their eyes when the league went back to the Penguins and Crosby, whose game-winning shootout goal through the snow in Buffalo was the highlight of the first Winter Classic in 2008.
Ovechkin and Crosby have dominated the No. 1 player debate in recent years.

(Getty Images)
The past two editions were all about venue, with the Red Wings beating the Blackhawks at Wrigley Field in 2009 and the Bruins edging the Flyers last January at Fenway Park. With the ill-conceived Pinstripe Bowl rendering Yankee Stadium unavailable at this time of year through 2013, the NHL opted for a rematch of the 2009 Eastern Conference semifinals, a series won by the Penguins in seven games, five of which were decided by one goal, including three in overtime.
"This is not our only compelling story, it's one of them," said Brendan Shanahan, NHL vice president of hockey and business development. "Ten years ago, this would have been Detroit-Colorado. The compelling story was [Steve] Yzerman-[Joe] Sakic and the rivalry of those two teams. Right now, this is a very compelling story."

HBO agreed, deciding to follow the Penguins and Capitals in the weeks leading up to the NHL's annual outdoor game. By drawing back the curtains on both teams, the four-part 24/7 documentary already has done in two weeks what the league has been unable to do for years: show players as more than blurred jersey numbers streaking across the television screen.

"I think people are getting a look at things they've probably never seen before -- the meetings, on the bench, the things going on on the ice, the travel, all that stuff. I mean, you're getting a pretty unique perspective on what it's like with our teams," Crosby said this week.

"I think that there's probably people who might not follow hockey a ton, but the fact that they're getting the opportunity to see what players go through, probably getting to know players a little better from both teams, I think it's something that's going to help, for sure."

The Penguins and Caps were chosen, NHL commissioner Gary Bettman has said, before HBO entered the picture. And HBO Sports president Ross Greenburg has stayed true to his word that 24/7 would not be the "Alex Ovechkin and Sidney Crosby Show." However, while Craig Adams' son is adorable and Bruce Boudreau's F-bomb run was impressive, it's difficult to imagine a major cable network devoting four hours of programming without the promise of at least a little star power.

Star power. Isn't that what TV is all about? And not coincidentally, the NHL's contracts with NBC, which has televised the Winter Classic since its inception, and the Versus cable network expire at the end of the season.

A major reason has been the Winter Classic, which in 2009 produced the highest television rating for a regular-season game since the Canadiens were building their last dynasty in the mid-1970s. That surely has not gone unnoticed at ESPN, which all but abandoned the NHL following the 2004-05 lockout and devalued hockey to the point it became less newsworthy than arena football.

At the same time, ratings for last year's game at Fenway Park dropped slightly from the numbers generated at Wrigley Field. And that surely did not go unnoticed at the league's office in midtown Manhattan. So, even though the ratings were strong for last spring's Stanley Cup Finals between the Blackhawks and Flyers, the NHL left little to chance and came up with Ovechkin and Crosby at Pittsburgh's Heinz Field.

"We came in four years ago with a plan that said we're going to build on a national scale, to make the business as good as the game is," NHL COO John Collins said. "The Winter Classic, as probably the most prominent example, the biggest breakout star in that business plan, has had a huge influence ... on the NHL's ability to drive numbers, to drive business, whether it's TV ratings, merchandise sales or sponsorship."

At the Board of Governors meetings earlier this month, Bettman said the league is "in a good place" as far as television, adding, "There is more interest in us than there has ever been."
That interest, Collins understands, could pose an interesting dilemma. If the league opts for separate broadcast and cable carriers in the U.S., that could create demand for a second outdoor game each year. And then there's Canada, which this year gets the outdoor Heritage Classic on Feb. 20 in Calgary.

"It's definitely been a topic we've kicked around internally and with the clubs and our TV partners," he said. "There's a balance between keeping this special, which I do feel it has become, and being able to service the demands of the fans and the number of markets that really would like to get a game.

"The balance is keeping it special and unique. That's a tough balance. That's what we're going to work through in next couple of years."

For now, the Crosby-Ovechkin matchup fits right into the plan the league embarked upon four years ago.

"We want to make the game even bigger and more relevant beyond the hockey universe," Collins said. "I think this matchup has allowed us to do a lot of different things, including getting HBO interested. We're taking the storylines of this game and exposing the players to a much broader audience than we would traditionally be talking to."
There are players that shape the NHL and that have left their mark in the hockey world. I am going to be counting down the top ten best NHL players today.
Daniel Sedin-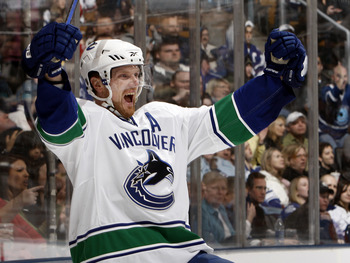 Daniel Sedin
Team: Vancouver Canucks
National Team: Sweden
Age: 29
Career Goals: 208
Career Assists: 339
Career Points: 547
Career Games: 705


Daniel Sedin kicks off our list at the number ten spot. The super swede easily had his best season of his career in 2009-2010 recording an excellent eighty-five points & fifty-six assists. Keep under our hats that Sedin missed nineteen games this season. He would've been close too one hundred if not over one hundred if he avoided injury. Sedin has now gone four straight seasons with over seventy points.
NOTE: Honour Roll to the players that missed the cut: Patrick Kane, Patrick Marleau, Dany Heatley, Nicklas Backstrom, Jonothan Toews, Jarome Iginla, Marc Savard, Marian Gaborik, Alexander Semin.
Joe Thornton-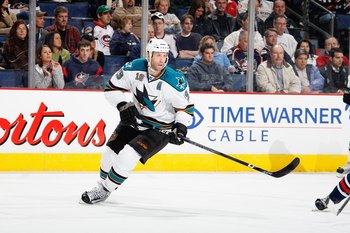 Joe Thornton
Team: San Jose Sharks
National Team: Canada
Age: 30
Career Goals: 285
Career Assists: 646
Career Points: 931
Career Games: 915


Your average 'Joe' is way above average when it comes to hockey. Joe Thornton has gone five straight seasons with over eighty points including in 2005-2006 when he got traded to San Jose, we saw one of the best performances ever in hockey when Thornton registered a truly phenomenal ninety two points in fifty eight games! Joe Thornton has been one of the most consistent players in the league and is one the best at passing the puck.
Niklas Lidstrom-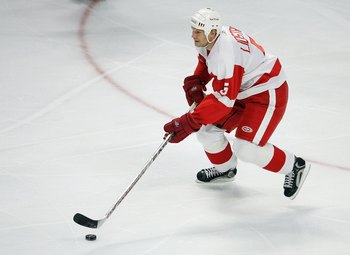 Niklas Lidstrom
Team: Detroit Red-Wings
National Team: Sweden
Age: 39
Career Goals: 237
Career Assists: 809
Career Points: 1,046
Career Games: 1,412


The first and only defense-men to crack this list. Nicklas Lidstrom is the best defense-men in the NHL right now and has been for the past decade. Six norris trophies speaks for itself but how about the fact that his worse plus-minus season was a plus seven! He is one of the greatest defense-men to ever play and he puts up the points more then a-lot of forwards do. Nicklas Lidstrom deserves the number six spot.
Henrik Sedin-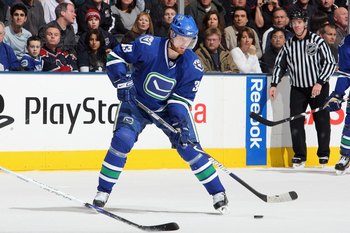 Henrik Sedin
Team: Vancouver Canucks
National Team: Sweden
Age: 29
Career Goals: 178
Career Assists: 434
Career Points: 572
Career Games: 728
The brother of Daniel, Henrik Sedin led the league in points and assists this season with one hundred & twelve points which was a franchise high and eighty three assists. He became the first and only player to win the Art Ross trophy in Vancouver Canucks franchise history. Arguably the best play-maker in the league & one of the most classiest people in sports.
Ilya Kovalchuk-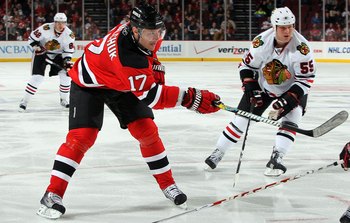 Ilya Kovalchuk
Team: New Jersey Devils
National Team: Russia
Age: 27
Career Goals: 338
Career Assists: 304
Career Points: 642
Career Games: 621


Ilya Kovalchuk has gone six straight seasons with over forty goals. He is the second best goal scorer in the NHL and is a natural sniper. He has great speed. He is the THIRD best NHL player today.
Country: Russia
NHL Team: Washington Capitals
Captain and Left winger of Washington Capitals, Ovechkin was selected in the 2004 entry draft of the National Hockey League. He joined the Dynamo Mosco from 2004 -2006. He transferred to NHL in 2006, winning Rookie of the Year, scoring 52 goals, leading with 106 points. Winning a list of trophies each season, Ovechkin deserves the Number # 1 spot.
Sidney Crosby & Alexander Ovechkin-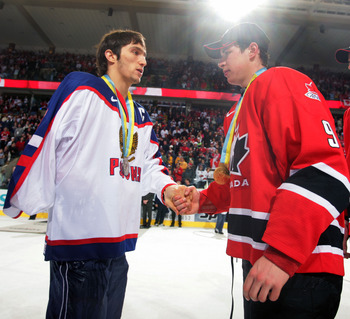 Sidney Crosby
Team: Pittsburgh Penguins
National Team: Canada
Age: 22
Career Goals: 183
Career Assists: 323
Career Points: 506
Career Games: 371
Alexander Ovechkin
Team: Washington Capitals
National Team: Russia
Age: 24
Career Goals: 269
Career Assists: 260
Career Points: 529
Career Games: 396
I don't know, their both so amazing. One is a great passer, one is a great scorer. However, since I won't leave you with a quesiton mark, i'll say: Crosby number 2, Ovechkin number 1.
2.
Sidney Crosby-
Country : Canada
NHL Team: Pittsburgh Penguins
This Canadian Centre and Captain of the Pittsburgh Penguins, is nicknamed 'The Next One'. Sidney Crosby started his NHL Career in 2005. In his second season when he won the Art Ross Trophy, he was the youngest to win a scoring title in any North American League. In 2009 he became the youngest captain to win the Stanley Cup. He has won awards like the Rocket Richard Trophy and the Mark Messier Leadership award. Crosby has represented Canada in World Junior Championships, IIHF World Championship and Winter Olympics.
3. Steven Stamkos-
Country: Canada
NHL Team: Tampa Bay Lightning
Stamkos had a breakout season in 2009–10, being near the NHL lead in goal scoring for most of the season. Stamkos ended the season with 51 goals, tied for most in the NHL with Sidney Crosby. Stamkos is the third youngest player to achieve this accomplishment. He is currently leading NHL in points and goals scored.
4. Alexander Semin-
Country: Russia
NHL Team: Washington Capitals
Semin made his professional debut in Russia's second-tier League in 2001–02. He made his NHL debut in the 2003-2004 season. Due to confusion about Semin's obligations to the Armed Forces of the Russian Federation, which requires all Russian men to serve two years, Semin was not allowed to return to the Capitals when NHL resumed the following season in 2005–06. Along with Ovechkin and Nicklas Backstrom, Semin helped form a highly offensive core with the Capitals in 2008–09. Semin was identified as one of the currently most improved NHL players.
5. Brad Richards-
Country: Canada
NHL Team: Dallas Stars
Richards was drafted in the 3rd round, 64th overall, by the Tampa Bay Lightning in the 1998 NHL Entry Draft, despite recording 82 assists and 115 points in his draft year. He won the Stanley Cup with the Lightning in 2004. On February 26, 2008, roughly 3 hours before the NHL trade deadline, Richards was traded to the Dallas Stars in a blockbuster deal along with goaltender Johan Holmqvist for goalie Mike Smith, centre Jeff Halpern, winger Jussi Jokinen and a 2009 4th round draft pick. Richards finished 7th in the NHL points standings in 2009-2010 season, just behind former teammate Martin St. Louis. He also finished fourth in total assists, and second in powerplay production in the league.
6.
Evgeni Malkin-
Country: Russia
NHL Team: Pittsburgh Penguins
Evgeni Malkin
Team: Pittsburgh Penguins
National Team: Russia
Age: 23
Career Goals: 143
Career Assists: 238
Career Points: 381
Career Games: 309


Evgeni Malkin. Some say he's the main part of Pittsburgh's success, he definitely is one of the big reasons the Pens won the cup seeing that he won the Conn Smythe trophy last season. Malkin already has an art ross trophy and a stanley cup at just the age of 23 and I don't think he has any plans on stopping.
Chosen by the Pittsburgh Penguins in the 2004 draft, Malkin is the Centre and Captain of the team. Winner of the Calder Memorial Trophy, Art Ross Trophy, Conn Smythe Trophy and many others, he has represented Russia in 2 IIHF World Under 18 and under 20 Championships. Malkin is also responsible for winning several medals for his team.
Country : Russia
NHL Team: Detroit Red Wings
Pavel Datsyuk
Team: Detroit Red-Wings
National Team: Russia
Age: 31
Career Goals: 198
Career Assists: 394
Career Points: 592
Career Games: 606
Is there a more classier player in the game today then Pavel Datsyuk? He has truly been the heart and soul of the Detroit Red-Wings and well, who can't like this guy? A bit of a down-fall this season but, ninety seven points last season, ninety seven points two seasons ago and eighty seven points three seasons ago, and eighty seven four seasons ago. Again, one of the better play-makers in the league, Datsyuk brings the whole package.
Known for his excellent control over the stick and being one of the best two way forwards, Datsyuk is the alternate captain of the Detroit Red wings. Winner of Frank J. Selke Trophy and Hart Memorial Trophy, Stanley Cup and has been nominated several times as the league's most valuable player.
8. Zach Parise-
Country: USA
NHL team New Jersey Devils
Zach Parise
Team: New Jersey Devils
National Team: United States of America
Age: 25
Career Goals: 160
Career Assists: 175
Career Points: 335
Career Games: 407


Zach Parise comes in at the number nine spot. The American born player who came out of college and has worked his way up to be the star of New Jersey, has not looked back. Parise achieved an incredible fourty five goals last season and ninety four points. This season he was good for eighty two points and thirty eight goals. Arguably the best two way player in the NHL, Parise has now captured four straight seasons with thirty+ goals.
Captain and left winger of the New Jersey Devils, American Parise was selected by the Devils in the 2003 NHL Draft. He won the Hobey Baker Award, playing for the University of North Dakota. He is among the top goal scorers. Representing his country in international competitions, he was the Most valuable player and best forward. He has also played on the Tournament All Star Team helping his team to win several medals. Parise, also an Olympian, comes from a family of hockey players.
9.
Corey Perry-
Country: Canada
NHL Team: Anaheim Ducks
This Canadian hockey player was a member of the Ontario Hockey League before he was selected to the Anaheim Ducks of the National Hockey League (NHL). He was part of the team that won the Gold medal for Canada in the Vancouver Olympics. His 2009-2010 season has been an exceptionally good one.
10. Patrick Sharp-
Country: Canada
NHL Team: Chicago Blackhawks
Patrick Sharp began his NHL hockey career with the Flyers recording only 7 points in 41 games. Midway through the 2005-06 season, Sharp was traded by the Flyers to the Chicago Blackhawks. At the start of the 2008-09 season, Sharp was named an alternate captain for the Blackhawks. Despite being limited by injuries, Sharp helped the Blackhawks form a highly offensive young team that led to 2009-2010 Stanley Cup. Today he is in the top 5 for points and a very underrated player.
Alexander Ovechkinthe Is The First All-Star Team For A Fifth Consecutive Season-
Alexander Ovechkin

Born
September 17, 1985
Moscow, Russian SFSR, USSR,(

1985-09-17

)
HeightWeight
6 ft 2 in (1.88 m)
233 lb (106 kg; 16 st 9 lb)
Position
Left wing
Shoots
Right
NHL teamF. teams
Washington Capitals
HC Dynamo Moscow (RSL)
Ntl. team
Russia
NHL Draft
1st overall, 2004
Washington Capitals
Playing career
2001–present
Website
AlexOvechkin8.com
Alexander Mikhaylovich Ovechkin (Russian:

Александр Михайлович Овечкин

; pronounced

[ˈɐlʲɪkˌsɑndr ɐˈvʲetʃkɪn]

; born September 17, 1985) is a Russian professional ice hockey left winger and captain of the Washington Capitals of the National Hockey League (NHL). Prior to playing in the NHL, Ovechkin played for HC Dynamo Moscow of the Russian Superleague for four seasons from 2001 until 2005. Ovechkin was the first overall selection in the 2004 NHL Entry Draft, drafted from Dynamo after 3 seasons with the club. Since the 2004-05 NHL season was lost because of a lockout, Ovechkin remained with Dynamo for one more season before transferring to the NHL for the 2005–06 NHL season, in which he won the Calder Memorial Trophy as rookie of the year, scoring 52 goals and 54 assists to lead all rookies with 106 points.
During the 2007–08 season, he led the NHL with 65 goals and 112 points to capture the Rocket Richard and Art Ross Trophies. That season he also won the Lester B. Pearson Award as the top player voted by the NHL Players' Association and the Hart Memorial Trophy as the league's MVP. He is the only player to win all four awards since the Rocket Richard Trophy's inception in 1999. He would lead Team Russia to a gold medal at the World Championships the same year.
In 2009, he again won the Hart Memorial Trophy as league MVP, the Lester B. Pearson Award, and the Rocket Richard Trophy. Ovechkin also led the Capitals to their second consecutive division title. He won the Ted Lindsay Award, which the Pearson Award had been renamed, for a third straight year in 2010, as well as being named to the First All-Star Team for a fifth consecutive season.
Playing career-
Washington Capitals-
Two days after signing, the lockout ended with a new CBA. Ovechkin played his first game with the Capitals on October 5, 2005, scoring two goals in a 3-2 victory over the Columbus Blue Jackets. On January 13, 2006 in Anaheim, Ovechkin scored his first career hat trick against Jean-Sébastien Giguère of the Mighty Ducks of Anaheim to help Washington win the game. Three days later, on January 16, he scored a goal that veteran hockey reporter Bill Clement called "one of the greatest goals of all time". Knocked down by Phoenix Coyotes defenseman Paul Mara and sliding on his back facing away from the net, Ovechkin was able to hook the puck with one hand on his stick and slide it into the net past goalie Brian Boucher for his second goal of the night. It became referred to as "The Goal". On February 1, Ovechkin was named NHL Rookie of the Month for January 2006 as well as being named Offensive Player of the Month, becoming only the third player in NHL history to earn both honors simultaneously.
Ovechkin finished the 2005–06 season leading all NHL rookies in goals, points, power-play goals, and shots. He finished third overall in the NHL in scoring with 106 points and tied for third in goals with 52. His 425 shots led the league, set an NHL rookie record and was the fourth-highest total in NHL history. Ovechkin's point total was the second-best in Washington Capitals history and his goals total tied for third in franchise history. He was also named to the NHL First All-Star Team, the first rookie to receive the honor in 15 years. After the season ended, Ovechkin received the Calder Memorial Trophy, awarded to the NHL's best rookie. EA Sports made him one of the cover athletes for NHL 07.
The following season, Ovechkin appeared in his first NHL All-Star Game in Dallas on January 24, 2007. He completed his second NHL season with 46 goals and 92 points.
Playing in the final season of his rookie contract, in 2007–08, Ovechkin signed a 13-year contract extension worth $124 million with the Capitals on January 10, 2008. The contract, which averages $9.5 million per year, is the richest in NHL history. Working without an agent, Ovechkin negotiated directly with Capitals owner Ted Leonsis and general manager George McPhee.
Late in the season, on March 3, 2008, Ovechkin notched his 50th, 51st and 52nd goals of the campaign for his fourth career NHL hat trick and to hit the 50-goal mark for the second time in his career. Later that month, on March 21, 2008, Ovechkin scored his 59th and 60th goals of the season against the Atlanta Thrashers, becoming the first NHL player to score 60 goals in a season since Mario Lemieux and Jaromír Jágr in 1995–96 and 19th player overall. Four days later, on March 25, Ovechkin scored his 61st goal of the season to break the Washington Capitals' team record for goals in a single season previously held by Dennis Maruk. He also went on to break Luc Robitaille's record for most goals by a left winger in one season on April 3, 2008, by scoring two goals for his 64th and 65th of the season. He also became the first NHL player to score at least 40 even-strength goals in one season since Pavel Bure in 1999-2000.
Leading the league in scoring with 65 goals and 112 points, Ovechkin captured both the Art Ross Trophy and the Rocket Richard Trophy in 2007–08. It was the first time in 41 seasons that a left-winger led the NHL in points since Bobby Hull led the league with 97 points in 1965-66.
Ovechkin helped lead a rejuvenated Capitals team back to the Stanley Cup playoffs with a stronger supporting cast that included countryman Alexander Semin, rookie center Nicklas Bäckström and defenseman Mike Green. He scored the game winning goal in his NHL playoff debut with less than five minutes left in Game 1 against the Philadelphia Flyers. He scored nine points in seven games against the Flyers as the Capitals were eliminated in the opening round.
In the off-season, Ovechkin was awarded the Lester B. Pearson Award as the top player voted by the NHL Players' Association (NHLPA) and the Hart Memorial Trophy as the league's MVP, becoming the first player in the history of the NHL to win all four major awards, including the Art Ross and Rocket Richard Trophies. Ovechkin was also awarded his third consecutive Kharlamov Trophy, named after Soviet hockey star Valeri Kharlamov and presented by Sovetsky Sport newspaper as the best Russian NHL player as voted by other Russian NHL players.
In late October of the 2008–09 NHL season, Ovechkin returned home to Moscow to visit his ailing grandfather, missing only the second game of his career up to that point, snapping a consecutive streak of 203 games played. On February 5, 2009, Ovechkin scored his 200th goal against the Los Angeles KingsWayne Gretzky, Mike Bossy and Mario Lemieux. On March 19, he scored his 50th goal of the season, becoming the first Washington Capitals player to reach the 50-goal mark three times. He finished the campaign with 56 goals to capture his second consecutive Rocket Richard Trophy, joining Jarome Iginla and Pavel Bure as the third player to win the award twice and the second player after Bure (2000 and 2001) to win the award in back-to-back seasons. With 110 points, he finished as runner-up to countryman Evgeni Malkin for the Art Ross. becoming only the fourth player in the NHL to reach the milestone in four seasons, joining
Ovechkin and the Capitals repeated as division champions en route to meeting the Rangers in the opening round. After advancing to the second round in seven games, Ovechkin notched his first NHL playoff hat trick on May 4, 2009, in Game 2 against the Penguins to help Washington to a 4–3 win. The Capitals were eventually defeated by Pittsburgh, the eventual Stanley Cup champions, in seven games. Ovechkin finished the 2009 playoffs with a post-season career-high 21 points in 14 games. He went on to win the Hart and Pearson Trophies for the second consecutive year, becoming the seventeenth player to win the Hart multiple times.
Just over a month into the 2009–10 season, Ovechkin suffered an upper-body injury during a game against the Blue Jackets on November 1, 2009, after a collision with opposing forward Raffi Torres. After returning, Ovechkin was suspended by the NHL on December 1 for two games (one for the action, and one for a second game misconduct penalty during the season) for a knee-on-knee hit to Carolina HurricanesTim Gleason during a game the previous day. Both Gleason and Ovechkin had to be helped off the ice, although Gleason later returned during the game, while Ovechkin did not. Ovechkin was assessed a five-minute major penalty and a game misconduct at the time. Capitals Coach Bruce Boudreau commented that Ovechkin's style of play was at times "reckless". The suspension was Ovechkin's first of his career, causing him to forfeit $98,844.16 in salary. defenseman
On January 5, 2010, Ovechkin was named captain of the Washington Capitals after previous captain Chris Clark was traded to the Columbus Blue Jackets. He became the first European, second youngest and 14th overall captain in team history.
On February 5, 2010, at a game against the New York Rangers, Ovechkin, with his second goal and third point of the game, reached the 500-point milestone of his NHL career. He is the fifth player to achieve the milestone in only five seasons, reaching it in 373 career games.
On March 14, 2010, at a game against the Chicago Blackhawks at the United Center, Ovechkin sent Hawks defenseman Brian Campbell into the boards after Campbell had dumped the puck to the blue line. Ovechkin was called for boarding, receiving a 5-minute major and a game misconduct, and was suspended for 2 games (for a third game misconduct of the season, a 2-game suspension is automatic). Campbell suffered a fractured clavicle and fractured rib, and was expected to be out 7–8 weeks.
Ovechkin won the 2009-2010 Ted Lindsay Award, becoming only the second player to win the award in three consecutive years.
Ovechkin currently ranks third in Capitals history in goals (only Peter Bondra and Mike Gartner have tallied more goals) and is 7th in total points.
In 2009-2010 Ovechkin surpassed the mark of Montreal Canadiens Hall of Fame goaltender Bill Durnan (first four seasons from 1943-44 through 1946-47) and became the first player in NHL history voted a First Team All-Star in each of his first five seasons.
International play-
Medal record

Ovechkin during the 2010 Winter Olympics in Vancouver
Competitor for Russia
Men's ice hockey
World Championships
Bronze
2005 Austria
Ice hockey
Bronze
2007 Russia
Ice hockey
Gold
2008 Canada
Ice hockey
Silver
2010 Germany
Ice hockey
World Junior Championships
Gold
2003 Canada
Ice hockey
Silver
2005 United States
Ice hockey
World U18 Championships
Silver
2002 Slovakia
Ice hockey
Bronze
2003 Russia
Ice hockey
At the age of 16, Ovechkin helped lead the Junior National Team to the Gold medal with two hat tricks, one against Switzerland and one against USA, and an assist.
At the age of 17, when he was selected by Russian coach Viktor Tikhonov to play in the Česká Pojišťovna Cup EuroTour tournament, Ovechkin became the youngest skater ever to play for the Russian National Team. In that tournament he also became the youngest player ever to score for the National Team. He also was selected to play at the 2002 IIHF World U18 Championships, which he amassed 14 goals and 4 assists in 8 games, leading Russia to a Sliver medal.
At the age of 18, Alex Ovechkin was named Captain of the Junior Russian National Team. Russia finished 5th in the tournament. In 2003, the team would go on to win a gold medal in the IIHF World U20 Championship.
At the age of 19, Ovechkin was named to the Russian National Team for the 2004 World Cup of Hockey, making him the the youngest player to play in the tournament.
Also at the age of 19, Alex Ovechkin was named Captain of the Junior National Team in the 2005 World Junior Ice Hockey Championships. The tournament, lasting from December 25, 2004, to January 4, 2005, was Ovechkin's third and last. At the end of the tournament he had collected 7 goals (tied for tournament lead). His team received the silver medal after losing the gold medal game to Canada on January 4, and Ovechkin was named the Best Forward of the tournament as well as selected to the tournament All-Star Team. In 2005 Ovechkin played in his first IIHF men's World Championships. He scored five goals and three assists, landing eighth in the top scorers list and sharing third place in goal scoring.
In 2006, Ovechkin played in his first Winter Olympic Games. Although Russia came away from the games without a medal, Ovechkin scored 5 goals in the tournament, including the game-winner against Canada's Martin Brodeur, eliminating Canada from the tournament. Ovechkin was the only player not on the Swedish (Gold) or Finnish (Silver) teams to be named to the all-tournament team.
At the 2006 IIHF World Championships, Ovechkin scored six goals and three assists (nine points) in seven games before Russia lost 4-3 to the Czech Republic in the quarterfinals. For his efforts, Ovechkin was one of six players selected to the Media All-Star Team.
Career statistics-
Regular season and playoffs-


Regular season


Playoffs
Season
Team
League
GP
G
A
Pts
PIM
GP
G
A
Pts
PIM
2001–02
Dynamo Moscow
RSL
21
2
2
4
4
3
0
0
0
0
2002–03
Dynamo Moscow
RSL
40
8
7
15
29
5
0
0
0
2
2003–04
Dynamo Moscow
RSL
53
13
10
23
4
3
0
0
0
2
2004–05
Dynamo Moscow
RSL
37
13
14
27
32
10
2
4
6
31
2005–06
Washington Capitals
NHL
81
52
54
106
52
—
—
—
—
—
2006–07
Washington Capitals
NHL
82
46
46
92
52
—
—
—
—
—
2007–08
Washington Capitals
NHL
82
65
47
112
40
7
4
5
9
0
2008–09
Washington Capitals
NHL
79
56
54
110
72
14
11
10
21
8
2009–10
Washington Capitals
NHL
72
50
59
109
89
7
5
5
10
0
RSL totals
151
36
33
69
106
18
2
4
6
35
NHL totals
396
269
260
529
305
28
20
20
40
8
NHL All-Star Games
Year
Location


G
A
Pts
2007
Dallas
1
0
1
2008
Atlanta
2
0
2
2009
Montreal
1
2
3
All-Star totals
4
2
6
International statistics
Year
Team
Event
Result
GP
G
A
Pts
PIM
2002
Russia
U18
8
14
4
18
0
2003
Russia
WJC
6
6
1
7
4
2003
Russia
U18
6
9
4
13
6
2004
Russia
WJC
5
6
5
2
7
25
2004
Russia
WC
10
6
1
1
2
0
2004
Russia
WCH
6
2
1
0
1
0
2005
Russia
WJC
6
7
4
11
4
2005
Russia
WC
8
5
3
8
4
2006
Russia
Oly
4
8
5
0
5
8
2006
Russia
WC
5
7
6
3
9
6
2007
Russia
WC
8
1
2
3
29
2008
Russia
WC
9
6
6
12
8
2010
Russia
Oly
6
4
2
2
4
2
2010
Russia
WC
9
5
1
6
4
Senior totals
61
32
18
50
61
U20 totals
18
18
7
25
33
U18 totals
14
23
8
31
6


At the 2008 IIHF World Championships, Ovechkin helped lead Russia to the gold medal by finishing with 12 points (six goals, six assists) in nine games. He was selected to the Media All-Star Team for the second time in five tournament appearances.
In the 2010 Winter Olympics, Ovechkin and Team Russia were one of the favourites to win the Gold Medal. Despite high expectations, Russia lost to Canada 7-3 in the quarterfinals. Ovechkin finished with 2 goals and 2 assists in Russia's four games.
After being eliminated in the first round of the NHL playoffs, Ovechkin joined Team Russia for the 2010 IIHF World Championships along with many other Russian stars, such as Malkin, Datsyuk, and Kovalchuk. Despite being heavily favoured to win the tournament, Russia lost to the Czech Republic in the finals. This loss ended a disappointing year for Ovechkin on the international stage.
Records-
NHL records:
First player to win the Art Ross Trophy, Maurice Richard Trophy, Lester B. Pearson Award and Hart Memorial Trophy as well as win all four in a single season (Note: The Maurice Richard Trophy was established for the 1998–99 season).
Only player to be named to the NHL First All-Star Team in each of his first five seasons
Most goals scored by a left-winger in a season (2007–08) – 65 goals
Most points scored by a left-wing rookie (2005–06) – 106 points
Most shots on goal by a left-winger in a season (2008–09) – 528 shots
Most shots on goal by a rookie in a season (2005–06) – 425 shots
Point streak in consecutive games to start an NHL career by a No. 1 overall pick (2005–06) – 8 games
Most regular season points by a Russian-born NHL rookie (2005–06) – 106 points
Fastest overtime goal – 6 seconds; (December 15, 2006 vs. Atlanta Thrashers; tied with Mats SundinDavid Legwand) and
Washington Capitals records-
Most seasons with 50 or more goals – 4 (2005–06, 2007–08, 2008–09, 2009–10)
Most shots on goal in a season – 528 (2008–09)
Most goals in a season (2007–08) – 65 goals
Most power play goals in a season (2007–08) – 22 PP goals (tie with Peter Bondra)
Most career overtime goals – 7 OT goals
Most career penalty shots attempted – 6 shots (most recent on January 17, 2010)
Most goals in a season by a rookie (2005–06) – 52 goals
Most points in a season by a rookie (2005–06) – 106 points
Point streak by a rookie – 11 games (17 points; 5 goals, 12 assists), March 18 – April 7, 2006
Point streak by a rookie to start season – 8 games
Goal streak by a rookie – 7 games, February 10 – March 8, 2006
The exquisitely scruffy Alexander Ovechkin has just signed an endorsement deal with Gillette. The men's grooming-products company announced yesterday it had tapped the Caps superstar to join the likes of Derek Jeter and Mexican soccer star Rafael Marquez as the brand's "global ambassadors." Our colleague Dan Steinberg reports that Ovie has agreed to remain "well-groomed" as part of the deal; totally doable, insisted a company rep.
"If you see Alex in some of his recent commercials, he's had kind of a cleanshaven look," spokesman Mike Norton told Steinberg. "With Gillette, we really want guys to look their best. And some guys like to be fully cleanshaven, some guys like goatees or well-trimmed beards."
What about the time-honored NHL practice of growing a beard for the playoffs? "Gillette and Alex both understand and respect the traditions of the game," an Ovechkin rep told our colleague. "Alex isn't superstitious by nature, and he hasn't even thought about it."
From Wikipedia-