The World's Leading Companies At This Time-
Edited by Scott DeCarlo
The Forbes
Global 2000 are the biggest, most powerful listed companies in the world. These global giants usually reorder themselves at a glacial pace but sometimes, as with the volatile financial sector of late, with more abruptness. Extreme vagaries of business or poor performance can take them off the list entirely. In any case, our composite ranking is the best snapshot of just how these titans compare. As we show, the corporate dominance of the developed nations is steadily receding. With respect not just to size but to what investors care most about, see our Global High Performers, an elite list of companies that set the pace in their respective industries.
This comprehensive report analyzes the world's biggest companies and the best-performing of these titans.
The Forbes Global 2000 are the biggest, most powerful listed companies in the world. These global giants usually reorder themselves at a glacial pace, but sometimes--as with the volatile financial sector of late--with more abruptness.
Extreme vagaries of business or poor performance can take them off the list entirely. In any case, our composite ranking is the best snapshot of just how these titans compare. As we show, the corporate dominance of the developed nations is steadily receding. With respect not just to size but to what investors care most about, see our Global High Performers, an elite list of companies that set the pace in their respective industries.
Cautionary notes
The availability and reliability of up to date information on private companies is limited and varies from country to country.
Revenue is only one of many ways of measuring company size and it is not the most appropriate for all purposes. Using a different measure, such as total assets or market capitalisation, would produce a fundamentally different list.
Many major companies, especially outside the USA, do not have a 31 December year end, so the figures are for years to a variety of dates.
This list is shown in U.S. dollars, but many of the companies on it prepare their accounts in other currencies. The value of their turnover in dollar terms may change substantially in a short period of time due to exchange rate fluctuations.
Figures are latest full year results; the year these results were reported in is shown beside them.
This list may be incomplete.
List of companies by revenue-
Rank
Company name
Primary Industry
Revenue
(USD Billion)
Year
Market capitalization
(USD million)
Employees
Primary Stock listing
Headquarters


1
Wal-Mart
Retailing
$408.214
Jan. 31, 2010
$310,973
2,150,000
NYSE: WMT
Bentonville, Arkansas, United States


2
Exxon Mobil
Oil and gas
$301.5
2009
$452,505
90,800
NYSE: XOM
Irving, Texas, United States


3
Royal Dutch Shell
Oil and gas
$278.188
2009
$220,110
112,000
LSE: RDSA
The Hague, Netherlands and London, United Kingdom


4
BP plc
Oil and gas
246.138
2009
$191,844
97,600
LSE: BP
London, England, United Kingdom


5
Saudi Aramco
Oil and gas
$233.3
2008
$781,000(estimated)
54,441
government-owned
Dhahran, Saudi Arabia


6
Toyota Motor Corporation
Automotive
$202.843
March 31, 2010
$172,166
316,121
TYO: 7203
Toyota, Aichi, Japan


7
Sinopec
Oil and gas
$197.019
2009
$135,317
400,513
SSE: 600028, SEHK: 0386
Beijing, China


8
Total S.A.
Oil and gas
$189.19
2009
$178,554
111,401
Euronext: FP
Courbevoie, Île-de-France, France


9.
Samsung Group
Conglomerate
$173.4
2009
$110,100
277,000
KRX: 005930, KRX: 005935
Samsung Town, Seoul, South Korea


10
Chevron Corp.
Oil and gas
$167.402
2009
$177,265
61,533
NYSE: CVX
San Ramon, California, United States


10
ING Group
Financial services
$164.39
2009
$84,358
115,000
Euronext: INGA
Amsterdam, North Holland, Netherlands






The 10 Largest Companies in the World-





You can measure the size of a company any number of ways. Market capitalization, the total market value of all shares outstanding and profit margin might work for some but you can also measure a company by total value of assets owned.
Today we will look at total revenue, the total amount of gross the company brings in. All of these companies are ranked by their revenue in US dollars. Keep in mind that some of them prepare their books in other currencies, so the dollar value of the revenue they bring in is subject to change based on the exchange rate at any given time. Also, some companies don't use the same US calendar, so the list compares a few different years.
1. Wal-Mart – Despite the occasional accusations of worker mistreatment, the retail chain headquartered in Bentonville, Arkansas employs over 2 million people and raked in over $413 billion in 2009. Wondering what $413 billion means for profit, well Wal-Mart cleared a net income of $14.33 billion.
2. Exxon Mobil – The oil and gas giant comes in a very very distant second, selling slick crude to the tune of $310.5 billion last year. If you're looking for a CEO name that fits a company perfectly, look no further than Rex W. Tillerson who heads Exxon Mobil from their Ivine, Texas headquarters.
3. Royal Dutch Shell – The first international company to earn top dollar, Shell comes in third with $278.1 billion in revenue. Royal Dutch Shell operates in over 140 countries and is headquartered in The Hague, Netherlands.
4. British Petroleum – London based, the fuel giant raked in $246.1 billion last year, several billion of which will go to cleanup costs and settle of claims after this year's Deepwater Horizon disaster. After a CEO resignation and a public relations nightmare, it's unclear how fast (if at all) BP will rebound.
5. Saudi Aramco – Government owned and operated, Saudi Aramco brought in $216 billion in 2007. Saudi Aramco also operates the world's largest single hydrocarbon network, known as the Master Gas System.
6. Toyota – Getting away from oil for just a second, the Japanese automotive manufacturer brought in $205 billion through March of this year. Similar to BP, Toyota will have quite the task of maintaining popularity through extreme customer complaints.
7. Samsung – The Korean conglomerate sold phones, televisions, and other products to the tune of $178.3 billion in 2007. When you think electronics, you used to think Sony but like Blockbuster, Sony is now a second or even third rate provider.
8. Chevron – Add another gas giant to the list because Chevron grossed $171.6 billion in 2009. Chevron trades on the New York Stock Exchange under the ticker symbol CVX and is headquartered in San Ramon, California.
9. Sinopec – The last of the fossil fuel companies making the top 10, this Chinese oil and gas company grossed the equivalent of $165.4 billion in 2007. 400,000 employees make up Sinopec, whose business includes oil and gas exploration, refining, and marketing; production and sales of petrochemicals, chemical fibers, chemical fertilizers, and other chemical products
10. ING Group – Last on our list is a worldwide financial services provider. Amsterdam based revenues amounted to $165.4 billion in 2009 and ING Direct currently offers US customers the opportunity to open a savings account, checking account or CD.
You'll find that the most revenue generating business among the ten is, by far, fuel. Companies with work in drilling, extracting, and refining oil and gas make up 6 of the top ten highest grossing companies in the world. Other industries are only represented once on the list. Those include retail, automobiles, financial services, and one conglomerate.
Of course, whether or not these are the most profitable industries is another story entirely. To figure that out, you would need to know how much of their revenue is going into business costs. And it certainly doesn't give much indication of how well positioned these companies are for growth, or whether or not investing in them suits your investment needs and strategy. To do that, figure out your financial objectives, and then take a deep look at your strategy for achieving them, and consider the data and management of these companies. When in doubt, consult a qualified professional.
1. Wal-Mart Stores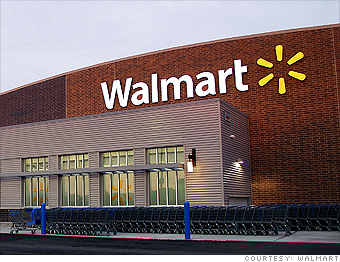 Get Quote: WMT
Financials: Latest Results
Rank: 1 (Previous rank: 3)
CEO: Michael T. Duke
Employees: 2,100,000
Address: 702 S.W. Eighth St.
Bentonville, Arkansas 72716
Country: U.S.
Website: www.walmartstores.com
Despite the global recession, the discount retailer's bargain prices lured consumers worldwide under new President and CEO Michael Duke. Wal-Mart continued expanding globally, reaching further into Asian markets, and it completed its biggest Latin-America acquisition: a controlling interest in Chile's largest grocer, Distribucion y Servicio.
Growth won't be easy for Wal-Mart in 2010. In the U.S., the retailer must battle high unemployment and rising gas prices. But international sales could pick up the slack: In 2009, nearly 25% of income came from outside the U.S. As Duke told investors and analysts at Wal-Mart's annual shareholder meeting in June: Global markets are "becoming an even bigger and more important part of our company."

Most Profitable
Oil companies are the biggest money makers on this year's Global 500, including besieged BP. Rounding out the top 10 earners are U.S. giants Microsoft and, of course, Wal-Mart.

Global 500 companies by country
The United States lays claim to the most global giants, followed by Japan, and then China.

Women CEOs
There are currently 12 Fortune Global 500 companies run by women, compared with last year, when there were 13. Archer Daniels Midland chief executive Patricia Woertz leads the pack again this year.
2010 World's Largest Retailers by Country - Top Global Retail Companies List-
Global Powers of Retailing Names Biggest and Best Retail Chains Worldwide
(by-Barbara farhan)
Each country has a retailer that is its biggest and best, and when comparing the biggest and best retail chains from each company, the Global Powers of Retailing list emerges. From the 13th annual "Global Powers of Retailing" report compiled by Deloitte Touche Tohmatsu and STORES Magazine, this is the list of the retailers who are leading the way for the retail industry in each of their 32 homelands.

The "Global Powers of Retailing" list ranks global retailers according to total revenue. In 2010 the list reflects the revenue that was generated in 2009, which was the early part of an intense global retailing recession. Despite that, the changes from the last Global Powers list are surprisingly not all that dramatic.

Most of the world's largest retailers positioned in the top half of the list moved very little in their rankings, if at all. Wal-Mart is still, by far, the largest retailer in the world. France's Carrefour is still #2. Germany's Metro AG overtook the United Kingdom's Tesco chain and claimed the #3 position on the list. The top retailers in the top countries managed to maintain relative stability on the global retailing stage.

There were a few big notable shifts in the world's largest retailers, however. Norway and Lithuania became global powers of retailing, joining this year's list at #88 and #221, respectively. Iceland fell off the list completely after its Baugur Group became a recession casualty.

Russia fell from the #15 position to the #107 position, the largest drop for any one country. China's ranking fell from #63 to #90, and a new largest retailer emerged in that country. Spain, Finland, Chile, South Korea, and Brazil also had new retail companies assume the position of being their country's largest retailer.

Click the links below to view the "World's Largest Retailers" list by continent or view the complete list, which is arranged by country.

For those interested, the 25 largest companies in the world. For each company, we provide its country, sector, price (local currency), year to date change, and market cap in dollars.
As shown, Exxon Mobil (XOM) is the biggest company in the world and the only one worth more than $300 billion. PetroChina (PTR) ranks second and is the only other company worth more than $200 billion. The Industrial and Commercial Bank of China is the world's third largest company, giving China two of the biggest three. Wal-Mart (WMT) and Microsoft (MSFT) round out the top five.
The United States still dominates the list with 12 of the 25 spots. China ranks second with four spots. General Electric (GE) used to be the biggest company in the world, but it has slipped all the way down to the 18th spot. Google (GOOG) is also on the list at number 22.
Think B.I.G., by Bespoke Investment Group, provides some of the most original content and intuitive thinking on the Street. Founded by Paul Hickey and Justin Walters, formerly of Birinyi Associates and creators of the acclaimed TickerSense blog, Bespoke offers multiple products that allow.
You might be surprised to learn what the largest employer in the world is. Want to take a guess? It is the Chinese Army, also known as the Peoples Liberation Army, at 2.3 million employees. WalMart (WMT) is in second place with 2.1 million employees, then the Indian Railway at 1.4 million, and the National Health Service in the United Kingdom at 1.33 million.
Top companies: Biggest employers:
Rank
Company
Global 500
Rank
2009 Number of Employees
1
Wal-Mart Stores
1
2,100,000
2
China National Petroleum
10
1,649,992
3
State Grid
8
1,533,800
4
U.S. Postal Service
92
667,605
5
Sinopec
7
633,383
6
Hon Hai Precision Industry
112
611,000
7
China Telecommunications
204
495,239
8
Carrefour
22
475,976
9
Tesco
58
468,508
10
Agricultural Bank of China
141
441,144
Giant retailer Wal-Mart Stores, with 1.8 million employees, tops the first published list of the world's 500 largest corporate employers.
Revenue In Excess Of $50 Billions-
For a company to be on the list of world's largest company is not a small thing. The company has to be large enough and perhaps having revenue in excess of $50 billions. World's largest companies by employees have thousands of employees but these companies may not necessary be the best employer.
WalMart Stores Inc-
Getting a Job-
Naturally, when employees look for employment opportunities they consider factors such as potential for career advancement in future, the location of the job, salary, benefits, as well as prospect of the company surviving in the market for many years to come. Companies that are good at retrenching employees when the economic conditions are bad are not very popular to be considered as best employers by the employees. Unfortunately, getting a job is very difficult these days and employees should be prepared to take what they are offered by the employer.


from Wikipedia-